Social Hours
Event description: Whatever time of day it is in your time zone, grab your beverage of choice and come have informal conversations with other attendees at the conference!
Thursday, May 20: 7:10 AM PDT / 3:10 PM BST / 7:40 PM IST

Musical performance by Colum Sands
Colum Sands is a universal storyteller who draws on a long Irish tradition of poetic musicality to weave songs for the world. With his works now translated into German, Dutch, Danish, Polish and Hebrew, he continues to build bridges rather than borders, using the power of song and story to unite  people in protecting and celebrating nature – the wondrous but fragile life system to which we all belong.
Friday, May 21: 8:30 AM PDT / 4:30 PM BST / 9:00 PM IST
Musical performances by Conor O'Kane and Stone Resistance
Conor O'Kane, Derryman, troublemaking troubador and plantaholic fermentalist! Steeped in traditional song and the music of resistance, a believer in planetary consciousness, permacultural planning, and the primacy of the rights of all beings over extractivist economics.
We are called 'Stone Resistance' (sometimes "The Stoners"). We were inspired by the activities of anti-quarry campaigners in West Tyrone, hence our name. We've been playing together for 10 years performing at various environmental events over the years. We've played for the Greencastle Peoples Office and Save our Sperrins on numerous occasions, writing some original tunes to suit various campaigns. Friends of the Earth invited us to play at one of their events at the 'Oh Yeah' club in Belfast last year. We don't fit conventional pigeon holes in terms of our style. Our names are –

Ciaran McClean, rhythm guitar and vocals,
Doyle Mills, lead and rhythm guitar,
Sean Curran, Rhythm and lead guitar,
Aidan Dunphy percussion
---
Extractivism and 'Sacrifice Zones' Roundtable
Thursday, May 20: 8:00 AM PDT / 4:00 PM BST / 8:30 PM IST
Chair: John Barry, Queen's University Belfast, UK
Speakers:
Lynda Sullivan, Friends of the Earth Northern Ireland
Councillor Donal O'Cofaigh, 'Save Our Sperrins' Campaign
V'cenza Cirefice, researcher on anti-extractivism, National University of Ireland, Galway
Councillor Emmet McAleer, 'Save Our Sperrins' Campaign
Toni Devine, Save Inishowen from Goldmining
---
Art Prize for the Competition 'Environmental Problems and Concerns in the 21st Century'
Friday, May 21: 8:30 AM PDT / 4:30 PM BST / 9:00 PM IST

Event description:
During the joint social hour on the second day of the conference, Maruška Svašek will announce the winners of the painting competition 'Environmental Problems and Concerns in the 21st Century'. The competition is part of the conference and was organised jointly by the Anthropology departments of Queen's University Belfast and the University of Allahabad. The competition was open to two categories of adult creatives, living in Prayagraj, India (formerly known as Allahabad):
Professional artists trained in traditional art or trained by an art academy;
Non-professional artists, including students and art enthusiasts outside the university structure.
The two winning artworks were selected by a panel of jurists chaired by the anthropologist Prof Fiona Magowan, whose research interests include the study of art, emotion, and the senses. The winners are awarded a sum of 200 British Pounds each, and the selected art-works will be exhibited on the conference website and displayed in the School of History, Anthropology, Philosophy and Politics, at Queen's University Belfast.
And the winners are: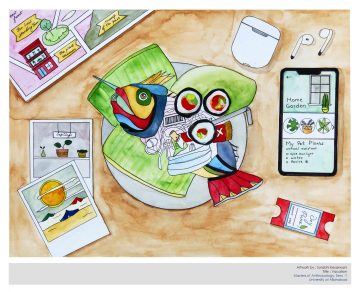 Category 1
Surabhi Kesarwani
"Vacation"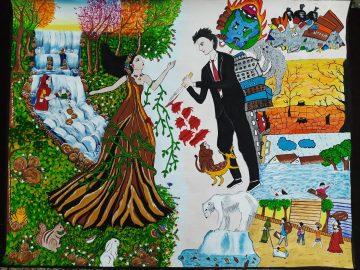 Category 2:
Vijeta Khattri
"Save Humanity, Save Environment"
Reflections on the art competition coming soon to our conference blog!
---