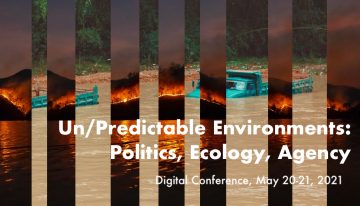 ---
Digital Conference, May 20-21, 2021
Un/Predictable Environments: Politics, Ecology, Agency
In the past year, unstoppable wildfires, devastating floods, powerful hurricanes, and the deadly Coronavirus pandemic have resulted in widespread death, despair, and destitution. The very terrain of global environmental action has been riven by political dramas and realignments played out on the international stage. Such un/predictable environments remind us not only of the interconnectedness of human systems with more-than-human ecologies, but also how multiple crises can converge and accumulate to produce intersectional impacts.
Our capacity to respond to environmental calamities depends upon how we understand the uncertainties associated with precipitous changes, the nature of vulnerabilities, and our ethical commitments to anticipatory and ongoing care and repair of the natural world. To foster transformative debate across three continents, we have proposed a digital conference at the convergence of critical and emancipatory practices around research, scholarship, art, and activism. The conference aims to explore how we undertake to predict and avoid socio-ecological harm and disasters. How do we frame the issue of 'un/predictability' in our narratives, solutions and practices, and how un/predictable are the intended outcomes?
This conference is co-hosted by the Public Humanities Hub at UBC-Vancouver and the School of History, Anthropology, Philosophy and Politics at Queen's University Belfast, in collaboration with the University of Allahabad. Keynote events and sessions will be held online, and organised according to time zones for Vancouver, Belfast, and Delhi.
While this conference is virtual, UBC-Vancouver is located on the traditional, ancestral, and unceded territory of the Musqueam people. The land is situated on what has always been a place of learning for the Musqueam, who for millennia have passed on their culture, history, and traditions from one generation to the next on this site.
Call for Papers
The call for papers is now closed. Thank you to everyone who submitted and stay tuned for updates on how to join the conference!  To read more about the themes of the conference, click here.
Conference Keynotes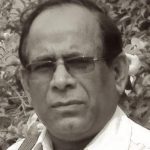 Traditional Knowledge, Environment Protection and Human Rights
Pooran C. Joshi, University of Delhi, India
Professor P. C. Joshi is a distinguished medical anthropologist working at the interface of culture, climate change and public health. He was a delegate to United Nations Framework Climate Change Conference in 2008 and the recipient of the Indira Priyadarshini Vriksha Mitra National Award. Professor Joshi has served in various government advisory positions  in India, and is currently Acting Vice-Chancellor at the University of Delhi.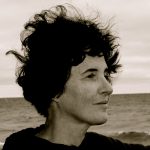 Dear Forest: Writing Across Breaking-Points with More-Than-Human Worlds
Hilary Cunningham Scharper, University of Toronto, Canada
Dr. Hilary Cunningham Scharper is both a cultural anthropologist and a Canadian novelist. Her academic interests encompass multispecies ethnography, critical animal studies, sentient landscapes and land ethics. Her ethnographic practice engages with visual, sensory and arts-based methodologies. Writing as Hilary Scharper, she also publishes literary fiction. Her recent novel Perdita is the first of a series of "eco-gothic" stories set in the Great Lakes.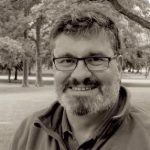 Embracing Mutual Vulnerability in a Time of Planetary Crisis and Uncertainty
Peter F. Cannavò,
Hamilton College, U.S.A.
Peter F. Cannavò is Professor of Government at Hamilton College in Clinton, New York. He is the author of The Working Landscape: Founding, Preservation, and the Politics of Place (The MIT Press, 2007), and co-editor, with Joseph H. Lane, Jr., of Engaging Nature: Environmentalism and the Political Theory Canon (The MIT Press, 2014).  He is currently working on To the Thousandth Generation: The Green Civic Republican Tradition in America, under contract with The MIT Press.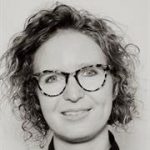 Compassionate Metabolism: Caring for Un/Predictable Futures
Susanne Pratt, University of Technology Sydney, Australia
Dr Susanne Pratt lectures at the Faculty of Transdisciplinary Innovation, University of Technology Sydney. Her work focuses on art, digital storytelling, futures studies, innovative social research methods, public engagement, environmental humanities, feminist politics of care, transdisciplinary pedagogy and science & technology studies. She explores how creative practices of care can both enact and problematize engagement with environmental health concerns.
---
Registration
There is no cost to participate; however, volunteered papers and registration are required in advance. This conference will be held online via Zoom.  Stay tuned for information on how to attend!
---
University Partners

This conference is supported in part by funding from the Social Sciences and Humanities Research Council.